We are Manufacturer, Supplier, Exporter of Surge Capacitors, Medium And High Voltage Surge Capacitors, Medium Frequency Capacitors, MV HV Capacitor and our setup is situated in Sangli, Maharashtra, India.
General Information
'Magnewin' make Surge Capacitors ( Medium and High Voltage ) are manufactured in state of art manufacturing facility situated at Sangli, Maharashtra, India.
Ratings
Single Phase Capacitors units
0.125 to 0.5 uF
Up to 46 kV
50 Hz or 60 Hz
Indoor or outdoor use
Manufacturing and Quality Control
Imported bi-axially oriented double side hazy Polypropylene film is used as dielectric and 99.9% pure Aluminium foil is used as conductor in making of capacitors. Winding of the element is carried out on a modern Automatic winding machine, in a class 100 environment. With extended foil design, with edge and end folding of aluminium foil, over voltage stress at the edges of the buried foil area is avoided. This also improves Partial Discharge Inception Voltage Value. To identify weak spots / pin holes in the Polypropylene film, each element is tested with DC voltage in dry pressed conditions. Numbers of elements are interconnected in series – parallel combination depending on Voltage rating and energy of the Capacitor, with the help of modern soldering technique. Dry pack is wrapped with several layers of high quality insulating paper before inserting it into a pre treated / degreased CRCA Container / stainless steel and the Top lid is welded by semiautomatic Pulse TIG welding machine. Bushings of desired BIL are fitted on the lid ensuring leakproofness. The metal parts of terminals are manufactured from extruded brass / stainless steel 304 Grade. All the terminal connections are tightened with torque wrench. The capacitors are then loaded in a PLC controlled autoclave for uniform heating and drying under vacuum for adequate period. After confirming the quality of drying by precision online monitoring instruments, Capacitors are then impregnated under vacuum with highly purified and degassed Non-Toxic non PCB impregnant. Capacitor unit is painted with 2 coats of Epoxy paint.The capacitors are then subjected to all routine tests in accordance to IS 11548
---
Applicable Standards
---
Features
Low losses < 0.8 watts per kVAr
World Class Raw Materials
Volume Optimized and highly Reliable
Trouble free Long life performance
Low noise level
Environmentally friendly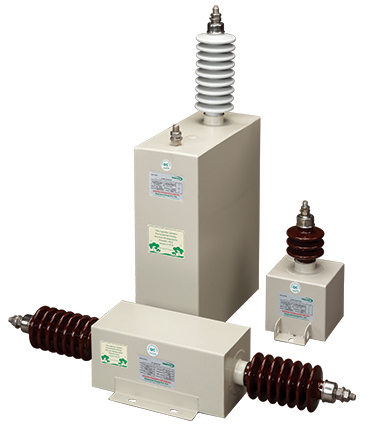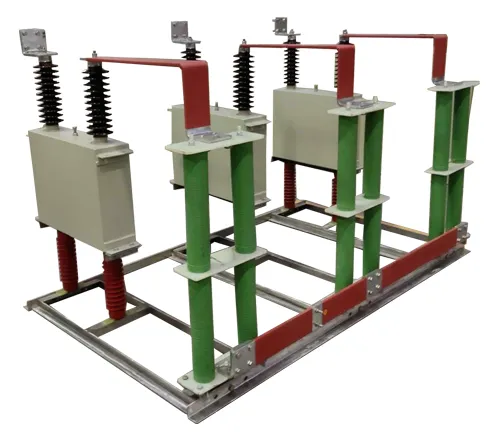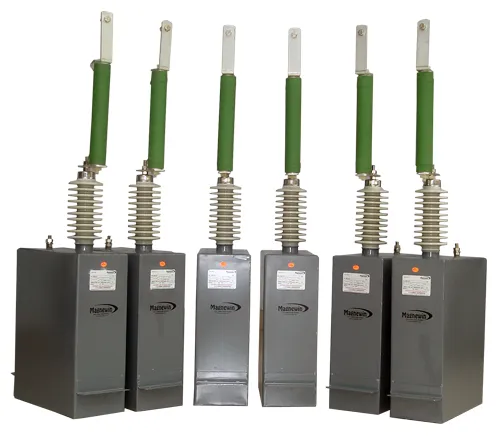 Application
Surge Protection capacitors are used on circuits where damaging voltage surges are expected. Surge capacitor helps by modifying the steepness of a travelling voltage wave form.
Surge Capacitors are used with high voltage motors, transformers and generators for purpose of protection by limiting the voltage rise.
Protection against Lighting surges / switching surges of Circuit Breaker.
Harmonic Capacitors
---
Testing
All the Capacitors are tested as per IS:11548 standards in our well-equipped in House Test Laboratory.